As an e-commerce focused headless CMS, we're always looking for ways in which we can improve the daily lives of e-commerce businesses and enable them to better serve their customers.
With that in mind, today we're happy to announce our official integration for Magento 2.
This integration is the first of many that we plan to create with various platforms, including Commercetools, Shopify, Slatwall Commerce and many more.
A headless CMS, built for e-commerce
Since the very beginning, LexasCMS has been focused on e-commerce and solving the unique challenges faced by e-commerce businesses.
Our first class personalisation, scheduling and visual preview features not only enable businesses to take full control of their content schedule, but also allow them to easily deliver personalised experiences to every customer as well.
LexasCMS's integration with Magento 2 marks the next step in our journey, in which we plan to create direct integrations with a number of different e-commerce platforms and become the go-to headless CMS for e-commerce.
The Magento 2 integration
So what does our Magento 2 integration actually do?
In short, the integration is simple but powerful! It allows content editors to easily create and manage relationships between products/categories in your Magento store and your CMS content.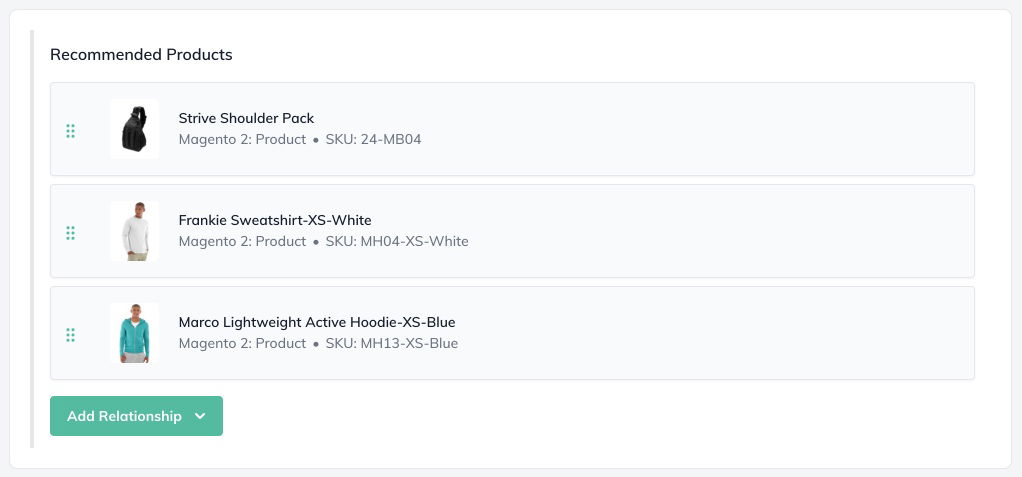 Such functionality makes it incredibly straight forward to implement features such as product recommendations, using data directly from Magento.
In addition to this, LexasCMS's integration can also be combined with its personalisation and scheduling features, enabling you to create product recommendations that are not only personalised, but are also scheduled to change over time!
Awesome, right?
What's next?
Now that our Magento 2 integration has been shipped, we'll be turning our attention to creating integrations with even more e-commerce platforms (such as those mentioned earlier).
We're also continuing to make progress with our content delivery infrastructures global expansion, in order to bring high speed content delivery to the entire globe.
If you'd like a demo, have any questions or would like to see us integrate with a specific e-commerce platform, please get in touch.
As always, to stay up to date with the latest news, you can follow us on Twitter or sign up to our mailing list using the form below 👇.